Approach
A mission to create a better more sustainable way of living.
Honeycrisp Cottage is a high-performance LEED compliant timber frame powered by solar. The building serves as a learning center for those who want to discover alternative ways of living and building.
We do this in collaboration with an ever-growing network of forward-thinking partners.
Based on our insights and findings, we strive to create and promote better and more sustainable ways of living.
Visiting
Honeycrisp Cottage a Tiny Timber Frame is a bright, energy efficient dwelling nestled on 9 acres overlooking a beautiful forested mountain & trails to explore along a brook. A peaceful getaway retreat equipped with a living room, a king bed, loft with a queen bed, full kitchen, & a full bathroom. 1 hour from ski resorts.
OUR SERVICES
Private Trails
Trails that cool the summer air and brings awareness of winter silence. Follow them down to a river or fire pit.
Organic Gardens
Dozens of organic fruit trees, bushes and vegetables on the property. We plant a few new fruit trees and bushes every year. The goal is to have a bountiful botanical garden for generations to come.
Curated Products
We have hand selected a small group of local products that share our passion for quality and sustainability. I hope you enjoy supporting them as much as we do.
Free Wifi
We love escaping, but sometimes high speed internet is a must.
Fire Wood
We have free pre cut firewood for you to build a fire with. Sit back watch the stars and listen to the owls hoot.
Coffee & Tea​
Organic local coffee is provided for free as well as an arrangement of organic teas and oatmeal.
GALLERY
Directed and written by guest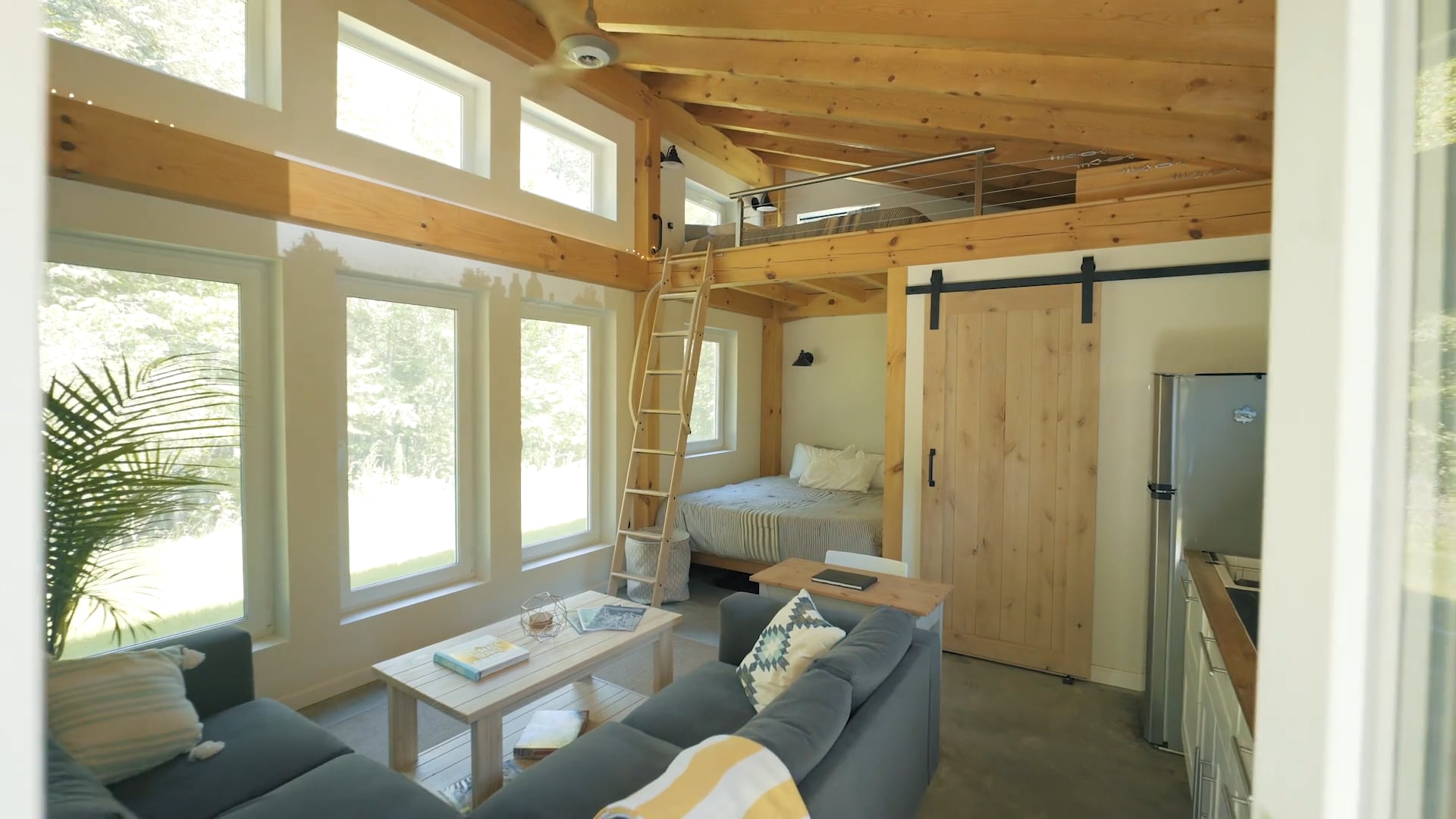 Tiny Homes: Big Adventures
THINGS TO DO
The below events and activities are a small list of what Vermont has to offer. The information below is taken from VermontVacation.com it is a great site to help guide visitors to explore new adventures.
"Vermont is home to a small but growing wine industry. Up and coming grape varieties such as Marquette, Frontenac, and La Crescent thrive in Vermont and make delicious and award-winning wines. Our region is also rich with beekeepers and apple & fruit growers, and our meads, ciders, and fruit wines reflect the wonderful flavors of our state."
"Today, Vermont is a true winter destination. This is a serious skiing state, boasting 20 alpine ski resorts, 30 cross-country touring centers and 7,300 acres of alpine terrain. There are 1,269 trails, 176 lifts, and 1,900 km of Nordic trails"
"The roadside farm stand with its selection of that day's harvest has long been a part of the Vermont scene, but the farmers market takes it to a whole new level. Think of them as a large gourmet food store where "buy local" is the motto. A place where a consumer can buy directly from the farmer."
"Vermont's craft beer industry has grown from a few early start-ups to more than 50 today, and Vermont is first in the nation for breweries and brew pubs per capita."
"The Vermont Cheese Council introduces you to more than 45 cheesemakers who produce over 150 varieties of small-batch, sheep, cow and goat specialty cheeses and have won literally scores of awards. "
"When the nights are cold and the days are warm, Vermont maple producers across the state know sugaring season is upon us. Vermont is the nation's leading producer of maple syrup. "
DESIGN
The Architecture focused on improving quality and comfort through simplistic functionality. Inspired by a Scandinavian design and Japanese timber structure.
CONTACT US